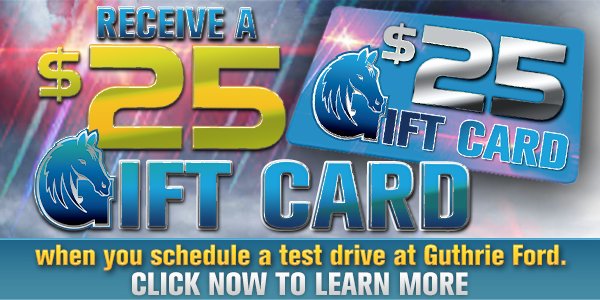 Guthrie Ford Test-drive for Gift Card Offer Terms

NO PURCHASE OR PAYMENT NECESSARY TO PARTICIPATE. WILL BE GOVERNED BY U.S. LAW. DO NOT ENTER IF YOU ARE NOT ELIGIBLE OR LOCATED OUTSIDE THE US AT THE TIME OF ENTRY.
Eligibility: The "Guthrie Ford Test Drive for a Gift Card offer ("Offer") is open to individuals who are legal residents, who are 18 years of age or older and have a valid driver's license at the time of vehicle test-drive. Void outside of the US and where prohibited. Employees, contractors, directors and officers of, Guthrie Ford ("Sponsor"), and their respective parents, subsidiaries, and affiliated companies and distributors, and Ford Dealers and any advertising and promotion agencies associated with this Offer in any way, and members of the immediate family members (spouse, siblings, parents, children and their respective spouses, regardless of where they reside) and household members, whether or not related, of each such employee, are not eligible. The Offer is subject to all Guthrie Ford test-drive requirements, as applicable. Failure of an individual to satisfy any such requirement (e.g., failure to produce a driver's license at the dealership) will disqualify such individual from the Offer.

2. How to Receive a Certificate and Dealer Code: To receive a certificate and dealer code prior to test drive visit www.GuthrieFord.com and receive a Certificate (a "Certificate") from February 17, 2016 to April 13, 2016 ("Offer Period"). Certificate supply varies by market and is subject to availability. Test-drive any new Ford vehicle at Guthrie Ford during dealers' regular business hours for up to thirty (30) minutes. You will receive a gift card immediately after your test-drive from a dealer sales person; you may not request a gift card at a later time. The gift card will be good for one (1) $25 Amazon.com Gift Card (the "Gift Card"), while supplies last. Limit one offer per person/household/IP address. Person/household is determined by either Email address supplied or IP address used at the time of registration and Certificate download, at the Administrator's discretion

4. Administration: Sponsor expressly reserves the right to amend, suspend or terminate this Offer at any time. Administration of this Offer is at the sole discretion of the Sponsor. Any questions relating to eligibility, these Rules or any other questions concerning this Offer will be resolved at the sole discretion of the Sponsor and their decisions will be final and binding with respect thereto. No requests for exchanges, or cash equivalent for the Gift Card will be considered and no substitutions will be made. Participants may be required to sign documents in connection with the Offer as determined by the Sponsor, in their sole and absolute discretion. No responsibility is assumed by the Sponsor or its affiliates for cancel, delayed, suspended or rescheduled events. No groups, clubs, corporations, companies, partnerships, or organizations may participate in this Offer or reproduce or distribute any portion of these Rules to their member.

5. Release and Waiver of Liability: By redeeming this Offer, individuals agree to release, defend, indemnify and hold harmless the Sponsor, and each of their respective parent corporations, subsidiaries, advertising and promotion agencies, affiliates, directors, officers, employees, representatives and agents (collectively "Released Parties") from and against any and all liability claims or actions of any kind whatsoever (however named or described) for injuries, death, damages or losses to persons and property which may be sustained in connection with (i) the participant's participation in the Offer; and (ii) the receipt, use or misuse of the Gift Card. The Sponsor expressly disclaims any responsibility or liability for injury or loss to any person or property relating to the delivery and/or subsequent use or misuse of the Gift Card. In consideration of the Gift Card, each individual hereby agrees and consents, without further authorization, compensation or remuneration of any kind, to the use of such individual's name, photograph, likeness (including his/her voice), biographical information and statements concerning the Offer, in any and all advertising, promotions and other publicity conducted by the Sponsor, and their respective parents, subsidiaries and affiliates.

6. Construction/Disputes: All issues and questions concerning the construction, validity, interpretation and enforceability of these Rules, or the rights and obligations of any individual or the Sponsor, shall be governed by, and construed in accordance with the laws of the State of Michigan, without giving effect to any choice of law or conflict of law rules or provisions (whether of Michigan or any other jurisdiction) that would cause the application of the laws of any jurisdiction other than Michigan. The parties agree that all disputes arising out of or connected with these Rules or the Offer will be resolved individually, and without resort to class action.

7. DISCLAIMER OF WARRANTIES/LIMITATION OF LIABILITY: THE SPONSOR IS NOT RESPONSIBLE NOR LIABLE FOR ANY DIRECT, INDIRECT, INCIDENTAL, CONSEQUENTIAL, SPECIAL, ECONOMIC, EXEMPLARY, PUNITIVE OR OTHER DAMAGES UNDER ANY CONTRACT, NEGLIGENCE, STRICT LIABILITY OR OTHER THEORY ARISING OUT OF OR RELATING IN ANY WAY, DIRECTLY OR INDIRECTLY, TO REDEMPTION OF THE OFFER, EVEN IF FORESEEABLE OR EVEN IF THE SPONSOR HAS BEEN ADVISED OF THE POSSIBILITY OF SUCH DAMAGES.

8. Online Terms: Sponsor is not responsible for technical, hardware or software malfunctions, lost or unavailable network connections, or failed, incorrect, inaccurate, incomplete, garbled or delayed electronic communications, whether caused by the sender or by any of the equipment or programming associated with, or utilized in, this Offer, or by any human error which may occur in the transmission or processing of the registrations in this Offer. Sponsor assumes no responsibility for damage caused by computer virus or otherwise, to any computer resulting from participant's access of the Offer website or participation in the Offer. All Internet access and usage charges are the responsibility of the participant. If for any reason this Offer is not capable of running as planned, including, but not limited to, infection by computer virus, bugs, tampering, unauthorized intervention, fraud, technical failures or any other causes beyond the control of Sponsor, which corrupt or affect the administration, security, fairness, integrity or proper conduct of this Offer, Sponsor reserves the right at its sole discretion to cancel, terminate, modify or suspend the Offer and, if terminated, award Gift Card as deemed fair and equitable by the Sponsor. Persons found tampering with, or abusing any aspect of, this Offer, or whom Sponsor believes to be causing malfunction, error, disruption or damage will be disqualified. Participants must have a valid Certificate address. In case of dispute as to the identity of participant, participant will be the account holder of the email address supplied at the time of Certificate download. "Authorized Account Holder" is defined as the natural person who is assigned a Certificate address by an Internet access provider, online service provider or other organization (e.g., business, educational institution, etc.) responsible for assigning Certificate addresses or the domain associated with the submitted Certificate address.

9. ENTRANT'S PERSONAL INFORMATION:  Personal Information collected from individuals who register for a test drive is subject to Guthrie Ford's Privacy Statement. By registering for a test drive, you expressly agree to the terms of Guthrie Ford's Privacy Statement.

Open to individuals who are legal residents of the US, who are 18 years of age or older and have a valid driver's license at the time of vehicle test-drive. Void elsewhere and where prohibited by law.
NO PURCHASE NECESSARY TO PARTICIPATE. Visit www.GuthrieFord.com to register and receive a Test Drive Certificate. Then, test-drive a Ford between 6/17/16 and 9/30/16 for up to 30 minutes to receive a one (1) $25 Amazon.com Gift Card, while supplies last. Certificate must be presented at the time of test-drive.